The National Society Colonial Dames XVII Century is comprised of 46 state societies and one international society in Canada. These state societies are further divided into chapters. Our 11,500 members share a common interest in American history, love of and respect for our nation, and a desire to work together in harmonious fellowship to achieve the important goals in the Object of the Society. Please visit the National Society's website to learn more about the Society and how we achieve our goals.
Chapter of Austin, Texas, is proud to be the home chapter of the first Colonial Dames XVII Century President General from Texas. Mrs. Earl Middleton served in this office 1949-1952. Visit our Chapter History page to learn more about Mrs. Middleton and Chapter history.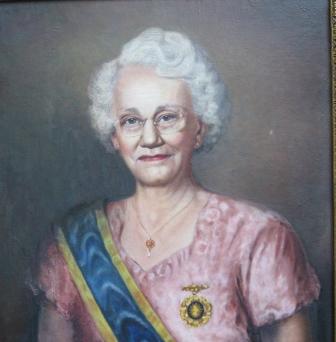 Marinda Middleton (Mrs. Earl)
June 7, 1876 - January 29, 1957
University of Illinois Alumna
Founder of Chapter 1941
First elected Texas Society President 1941 - 1943
President General 1949 - 1952
Honorary President General For Life
The Embassy Chapter in Austin, Texas meets four time a year: September, November, February, and May on the 2nd Wednesday of the month. The meeting and program begins at 11 a.m. followed by a luncheon at 12:15.
Our membership is very diverse, with teachers, stay at home moms, professionals, retirees, and juniors (members aged 18-40) from Austin and surrounding cities. We are an active chapter with members serving as state officers, state chairmen, and delegates to the National conference held each April in Washington, D.C.
Please contact us if you are interested in attending our meetings. We welcome prospective members and guests. We invite you to visit the National Society's website for information about eligibility and membership.